Bella Cucina is a family owned and operated restaurant established in 2004. Many of our recipes have been handed down from the DeMeo family for generations including Grandma Fanny's (Felicia) favorites. Three generations are still active in the business – Papa Tom, son Tom III and grandson Jared.
Our focus is Tuscan style cooking, basic recipes using the freshest available ingredients from local markets including produce, seafood and shellfish. Our chefs use these ingredients in all of our regular menu items and also to create our exciting daily special appetizers and entrées.
In addition to the efforts produced in the kitchen, our wait-staff is dedicated to ensure that your dining experience is both satisfying and enjoyable.
Whether you have our renowned hand-tossed pizza or an entrée special, it is our commitment that each visit with us will be such that your return is assured.
Pizza Chef Joel Wilcox was born in Glen Falls, NY before moving to Queens. He developed a passion for pizza-making at age 13 and never looked back. His work began at Tommy's Pizza after which he relocated to Mount Pocono, PA tossing pies at several of the town's pizzerias.
Arriving at Bella in 2010, Joel quickly became the lead pizza chef assuming kitchen manager responsibilities shortly thereafter. As a result of his perseverance and commitment Bella Cucina was voted Best Pizza and Takeout Food that Tastes Most Like Home-Cooking. Italian style cooking is his forte and he aspires to own his own place someday.
Joel has two future pizza makers – Dylan and Julian.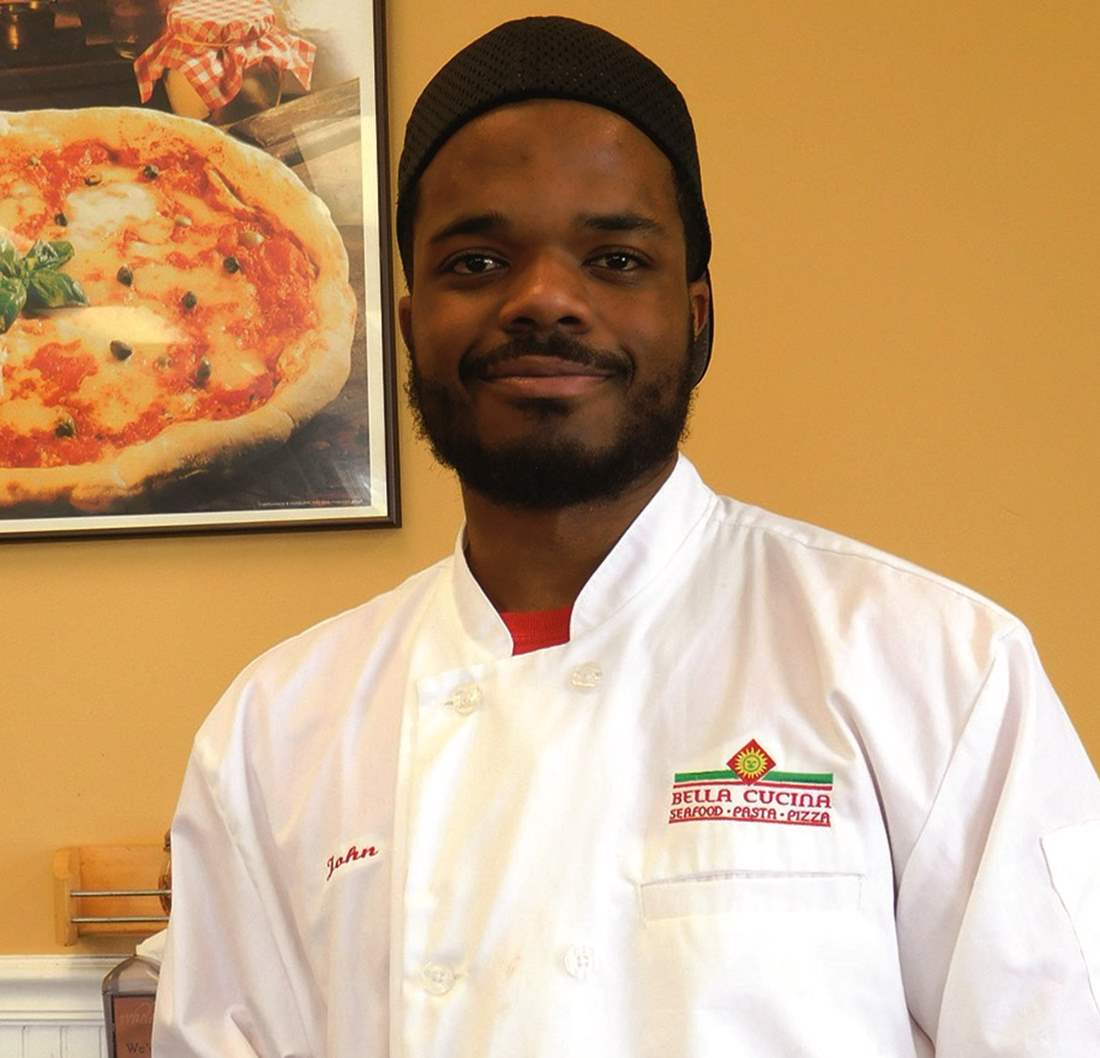 Chef John Turner was raised in New Jersey, moved to Southport in 2010 and began his career at Baked with Love. He then found Bella Cucina where his culinary skills flourished. John has been the Executive Chef at Bella Cucina since 2018. He specializes in working closely with local fishmongers and farmers in creating the best dinner specials and desserts the area has to offer.
---
Joel and John's leadership skills and attention to detail are direct contributors to Bella Cucina receiving a Platinum Health Code Award. Their combined efforts in concert with the dedication of the entire Bella team also led to multiple "Pineapple" Awards for Outstanding Customer Service as well as "Best Seafood Restaurant".
Just some of the many acknowledgements we've received for this team's ceaseless efforts to exceed in all areas.
Best Pizza
Best Italian Restaurant
Best Seafood Restaurant
Best Family Restaurant
Favorite Family Restaurant
Most Generous Portions
Takeout That Tastes Most Like Home-Cooking
Top 1% of Neighborhood Favorites
Pineapple Awards for Outstanding Customer Service
Platinum Award for Superior Sanitation Ratings